614-885-5588
18 N. Liberty Street
POWELL, OH 43065
TUES-SAT 11-5 pm
SUN 12-5 pm
Our History!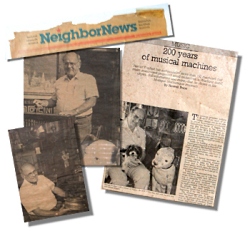 The Liberty Antique Mall was founded by Harold Freiheit. Harold's passion for odd and unique antiques, in combination with decades of experience in both buying and selling antiques music machines, led to the establishment of the Liberty Antique Mall. Harold was hailed by some local publications as "the duke of the antique music machines," when he originally opened shop in Clintonville back in 1968.
Chris Freiheit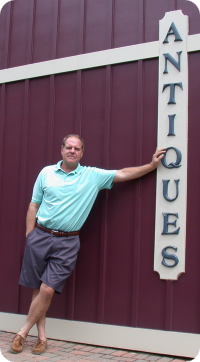 Since Harold's passing along with the move from Clintonville to Powell, Ohio, Harold's son, Chris carries out the tradition his father originally established.
Chris is proud of the Mall's rare and uncommon collection and is always looking to expand. In fact, inventory changes weekly. Chris' eye for detail and experience in the antiques industry has allowed him to become an extraordinary dealer for specialized pieces including; jukeboxes, nickelodeons, other antique music machines, quality antiques and much, much more. The Liberty Antique Mall deals in quality antiques, unique collectibles and outrageous items for the novice, advanced collector, and investor. Email us with any questions.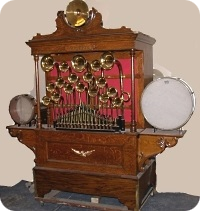 Here at Liberty Antique Mall, we specialize in a variety of unique antiques, everything from vintage advertising and music machines to jewelry and china items. The more unique and odd, the better! Since 1968 our experience in antiques and collectibles in combination with our superb reputation makes us your best buying source, so why not give us a try?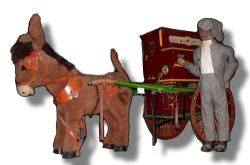 Whether you are looking to expand your collection, start your collection, or simply add some outrageous flavor to your collection, we can help. With one of the most extensive arrays of antiques, our inventory houses something for everyone. Our selection is constantly changing and growing in order to please the novice or advanced collector, as well as an investor or casual admirer of off-the-wall pieces. We also rent space for other collectors / seller providing even a stronger selection of items second to none in Central Ohio.
If it is a unique collectible or outrageous item you are looking for, chances are we have it here in our store. Take time to view our Website, or if you have any questions or inquiries, please feel free to contact us toll free at 614-885-5588. We accept Visa, MasterCard and Discover.
SELL YOUR ANTIQUES & COLLECTIBLES AND TURN THEM INTO CASH!!
We welcome inquiries from anyone interested in renting space to sell antiques and collectibles, including anything from coins and pocket knives to antique buffets and china cabinets. We have numerous dealers who started their business with us that had never been in a mall before.
We also have a number of dealers who have been in the business for many years and have space in other antique malls as well. Our booth rental rates are very reasonable, and are still the same today as they were when we opened the doors in 1968! Contact us for more details or call @ 614-855-5588

We are always interested in buying quality antiques and collectibles.... from a single item to an entire household. Please call us at 614-885-5588 if you have items to sell.
Or Email us with your inquiries.



Follow us on...